Hopefully, this page will be helpful to someone. What follows is a video to bring a few things to mind and the downloadable eBook is for having as a reference, in which the many legitimate studies prove, that there is definitely another side to the story.
Innocence Prosecuted Without Defense
Mothers and fathers are the jury, their babies are the defendants and the prosecutors are those demanding vaccinations. Is judgement being passed upon children without hearing what the defense has to say? Let the defense speak. Please listen:
Nothing to lose by investigating–right? Here's convincing information, all in one PDF. At least read a few pages of this free eBook. Just click on the image below and you will be taken to the download page: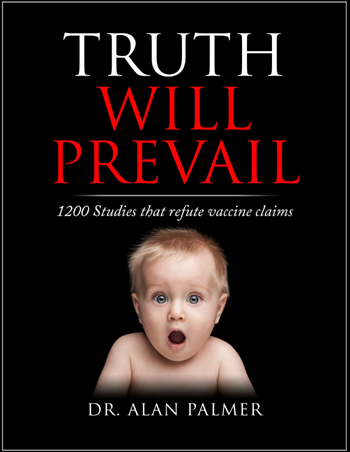 (If there is a problem preventing the download try this download link from this site:
1200-studies-The-Truth-Will-Prevail-v2.4_08-15-19)
* * * * *
This link is for Jesus people:
* * * * *
To understand the specifics of what goes on in the body when vaccinated, first meet Dr Andrew Moulden (a 5 page PDF of his biography) and see if you think he would be a credible defense for you and your child. If you think so then do a search for this: Dr. Andrew Moulden: Every Vaccine Produces Harm. If you can't find a copy let me know; I'll let you borrow mine. Until then you might want to read this: Tribute to Dr Andrew Moulden and then, visit here: VAXXED II – The People's Truth

* * * * *
Suggestion: Get pen and paper and write the information down that is provided in this short video and check to see if all the info is true.
* * * * *
If your pediatrician threatened to not see your baby because you are questioning the vaccination of your baby, then that is certainly a red flag. Arm yourself with some knowledge about the baby doctor business.
Your pediatrician's agenda is to follow the CDC's vaccine schedule.
Here is a 258 page PDF. The name of it is
The Terror of Pediatric Medicine
* * * * *
THE MONEY
Financing Immunizations in the United States
What Would It Cost to Vaccinate Every Child for Everything?
Vaccination coverage for selected diseases among children aged 19–35 months, by race, Hispanic origin, poverty level, and location of residence in metropolitan statistical area: United States, selected years 1998–2017
* * * * *
To get in touch with me personally, leave a comment below. (Spam and junk will not be approved for visibility to the readers of this site and otherwise may take a few days for it to be approved. I get your comments by email. If you want to keep what you say just between the two of us, just tell me in your comment/email to KEEP IT PRIVATE and it will not be "Approved" to show anywhere on this website.)